News

Is your air conditioner toxic?

Recently I had my house sprayed for pests and I have no doubt there will not be a cockroach in sight for 6 months. However the health side effects for me were not good.
I felt sick but not in a way I could identify exactly what was wrong. It was definitely a reaction to the chemicals.
Air conditioners especially some older styles can be breeding grounds for mould and bacteria.
According to mould removal experts young developing immune systems and those compromised already are vulnerable.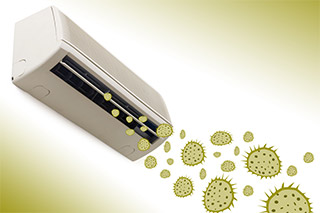 Mould in Air Conditioners
When it comes to your air conditioner mould and spores can create long term issues for the health of your household.
Using a specialist who does general
mould removal
makes sense.
Mould is just mould isnt it? - apparently not these guys do mould treatments especially in cases of
Sick Building Syndrome
where people are consistently getting sick.
In fact a leading environmental doctor has been referring clients to them - due to the success rate.
They also conduct lab tests to determine the toxicity of an environment in comparison to the outside air - hence you measure the spore count inside and compare it to outside.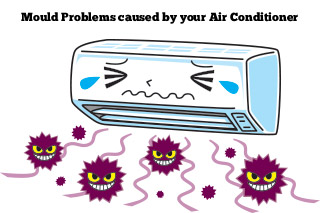 Environmentally Friendly Air Conditioning Cleaning
Part of the process is using an environmentally friendly and air conditioner friendly treatment that -:
Kills germs, mould species and bacteria
Thoroughly cleans the air conditioners coils
Safe for air conditioner coils
Saves Energy
Eliminates odours
Environmentally friendly
Includes cleaning filters
It eliminates odour, removes oil stains, cigarette stains, mould spores, bacteria, dirt and grime.
Specialising in Mould Removal Gold Coast and surrounding areas (Brisbane - Tweed) for more information call 55590790

Download the AMC Flyer on how to get your air conditioner clean.
Air Purifier

Room air purifiers can reduce particulates, microorganisms and VOCs.
Breakdowns caused by mould
"The majority of breakdowns we have attended this year have been due to drain blockages from mould and algae build up." Jeff JT Air Conditioning
Brochure: Is Your Air Conditioner Toxic