Split System Air Conditioning
An example of a Fujitsu Inverter Split System
Use your mouse to check features
Check this Brisbane Air Conditioning company for the latest installation prices on Split System Air Conditioners.
It is very important to get the right sized system with correct installation. Only qualified air conditioning experts can provide this.

Jeff uses brands like Mitsubishi and Fujitsu which come with good warranties.
How Split System Air Conditioners Work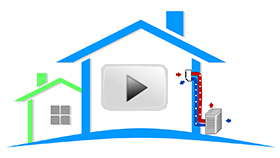 How Split System Airconditioners Work
Heating and Cooling Costs in the Home
Heating and Cooling your home can contribute to 40-50% of your electricity bill. Split system air conditioners are very efficient in both cooling and heating.